Louis de Smet
Louis received his MSc in Molecular Sciences (specialization physical chemistry) from Wageningen University in 2001. During the last stage of this degree, he spent 6 months in the group of Dr. B.R. Horrocks at the University of Newcastle upon Tyne (UK) working on the chemical modification of porous silicon. He obtained his PhD degree from Wageningen University in 2006 in the field of organic chemistry with a study on covalently attached organic monolayers on silicon surfaces under the supervision Prof. E.J.R. Sudhölter.
He then performed postdoctoral work at the Ian Wark Research Institute / University of South Australia with Prof H.J. Griesser in the field of interfacial forces between biocompatible surfaces and proteins. In 2007 he joined TU Delft as Assistant Professor, where he teached Chemical Thermodynamics and built a research group in the field of organic coatings for sensor purposes.
In 2016 he moved back to Wageningen to become Associate Professor at the Laboratory of Organic Chemistry to teach analytical chemistry and to focus on advanced interfaces and materials, with a large focus on chemical selectivity. Since January 2023 he is Personal Professor.
For more information on his current research activities and team use this link.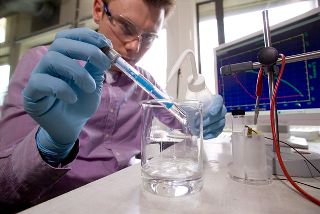 Current PhD students:
WUR: Jayaruwan Gamaethiralalage, Ellen Dautzenberg, Julian Engelhardt, Stijn Paulusma, Júlia Mestres Martinez, Thijmen van Voorthuizen
@ TU Delft: Chunyu Huang
@ Wetsus: Daniele Chinello
Fellowships and Awards
2022 – Excelencia María de Maeztu, Visiting Researcher Grant (Spain)
2022 – Dutch Research Council Vici Grant
2018 – Dutch Research Council Start-up Grant
2015 – European Reseach Council Consolidator Grant
2009 – IDEA League Research Grant
2007 – Dutch Research Council Veni Grant
2006 – Dutch Research Council Talent Postdoctoral Research Fellowship
1999 – Scholarship form the Association of the Dutch Chemical Industry
Biography
Since 2023 - Personal Professor Advanced Interfaces & Materials, Wageningen University, NL
Nov 2022 - Visiting Researcher, IMDEA Energy, Madrid (ES)
Since 2017 - Senior Advisor Organic Materials to Wetsus, Leeuwarden, NL (0.2 fte secondment)
mid-2016–2022 – Associate Professor at the Laboratory of Organic Chemistry at Wageningen University, NL
mid-2016–mid-2018 – Guest Associate Professor, Organic Materials & Interfaces, Department of Chemical Engineering, Delft University of Technology, NL
Oct 2009 – Visiting Scientist Laboratory of Biosensors and Bioelectronics, ETH Zurich, CH
2007–2016 – Assistant Professor, Organic Materials & Interfaces, Department of Chemical Engineering, Delft University of Technology, NL (tenured since mid 2012)
2006 – Postdoctoral Researcher, Bio and Polymer Interfaces Group, Ian Wark Research Institute, Univerisity of South Australia, AU
2001–2006 – PhD, Laboratory of Organic Chemistry, Wageningen Univerisity, The Netherlands. Thesis: Covalently Bound Organic Monolayers on Silicon Surfaces: Visible Light Attachment, Characterization, and Electrical Properties. Electronically available here
2001 – MSc Thesis work at the University of Newcastle upon Tyne, UK (6 months)
1996–2001 – BSc & MSc Molecular Sciences, Wageningen University, NL
---